Routine Vaccinations for Adults - Keeping your family safe during the pandemic
---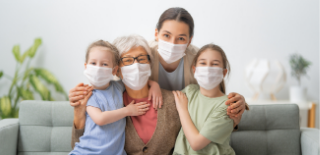 Think grownups don't need to keep up on their routine vaccinations?
Think again! The protection offered by routine childhood vaccinations against common diseases doesn't last forever – booster doses are often needed to help ensure we can avoid infection.1
Staying strong and healthy is especially important as we weather the COVID-19 pandemic. Whether you have aging parents, kids or grandchildren in your life, keeping your vaccinations up to date helps you avoid spreading preventable contagious illnesses to those around you. At the same time, immunization protects you from harmful germs around us – for instance, even healthy infants may have pathogens in their nostrils that can cause serious infections in older people.2
As we age, our natural immunity weakens, reducing the body's defenses against pathogens around us. We may also develop chronic health conditions such as heart or lung conditions, diabetes, obesity, and weakened immune systems – and these can increase the severity of symptoms of many diseases, including influenza and COVID-19.2, 3
Other changes in life and lifestyle also heighten the importance of keeping your vaccinations up-to-date. As a growing number of people are vaccinated against COVID-19, opportunities for travel and social gatherings will gradually open up – and we will all want to feel as safe and protected as possible as we venture out into the world again.
According to a recent survey, although most adults felt they had received all vaccines required for someone their age, less than one in ten were actually up-to-date on their vaccinations.2
Several vaccinations are especially important for older adults and seniors – in addition to the annual flu shot, Health Canada recommends booster shots for Pneumococcus, which can cause severe pneumonia in seniors; tetanus, which enters the body through a small injury that might occur during gardening or due to an animal bite; diphtheria which is generally spread between people sharing the same air space; and pertussis (whooping cough), which is generally mild in adults but can be deadly for infants who catch it.2
The good news is that after having the 3 in 1-shot Tdap vaccine for tetanus, diphtheria and pertussis as a child, you can maintain protection by having a Td (tetanus-diphtheria) booster every 10 years.3, 4
Measles, mumps and rubella are also highly contagious illnesses that can have serious consequences in adults; mumps, for instance, may result in complications like meningitis and painful swelling of the testicles and ovaries.4
While most Canadians will have received the 3 in 1 MMR vaccination against measles, mumps and rubella as part of routine childhood immunization, these infections may be more common in some areas in Canada and beyond. Just one booster shot offers protection against these three illnesses, and is recommended by the Advisory Committee on Immunization Practices (ACIP) for individuals without evidence of immunity, those who work in healthcare settings or live/work with immunocompromised individuals or living in shared accommodations such as school residences, and international travelers, especially those going to a region with active infection.5, 6
Don't be caught unprepared as we look forward to returning to a "new normal" – check your vaccination records to be sure you have the immunizations you need to stay safe. If you aren't sure of your vaccination status, ask your doctor or check with your local public health office.2
Brought to you by Vaccines411.ca – know where to go for your vaccinations.
This information should not be used as a substitute for the medical care and advice of your doctor. There may be variations in treatment that your physician may recommend based on individual facts and circumstances.

Read more Vaccines411® Articles



Sources
Note: the hyperlinks that direct to other sites are not continuously updated. It is possible that some links become untraceable over time. Thank you.
Additional source:
You May Not Be Immune Forever- Why Boosters Are Important!
https://www.passporthealthusa.com/2016/06/why-boosters-are-important/