Staying healthy and immunized is a lifelong process.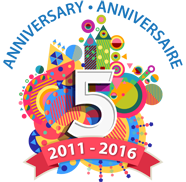 Are you fully protected?
Welcome to Vaccines411.ca, Canada's Vaccine Clinic Directory. Here you will find an extensive list of clinics offering immunizations across Canada, along with reliable information about a wide range of vaccinations.
It's easy. Simply enter your postal code to locate the vaccine clinic closest to you.
Vaccines411.ca is celebrating 5 years of helping Canadians stay healthy at home and abroad! To read more about our 5 Year Anniversary, visit our press release.

In celebration of our 5 year anniversary, Vaccines411 will donate 5 cents for every "like" we receive on Facebook (for a maximum of $500) to World Vision's Immunize a Community campaign to raise money to immunize communities beyond our borders.
Your "like" will go beyond Canada to help deliver immunizations and equipment to protect as many as 5 communities - and save lives! Read more about World Vision's Immunize a Community campaign here.
Vaccine News
Vaccines411® Articles