Healthcare Professionals – Vaccine News
---
Upcoming Events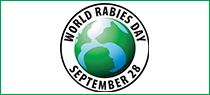 World Rabies Day
September 28, 2018
Worldwide

World Rabies Day is the first and only global day of action and awareness for rabies prevention. It is an opportunity to unite as a community and for individuals, NGOs and governments to connect and share their work.
Click here to learn more.

Canadian Immunization Conference (CIC) 2018
December 4-6, 2018
Shaw Center
Ottawa, Ontario, Canada

In December 2018, stakeholders who contribute to Canada's vaccination system will gather at the Canadian Immunization Conference to demonstrate their commitment to immunization as an important public health measure.
Click here to learn more.