Staying healthy and immunized is a lifelong process.
Are you fully protected?
Welcome to Vaccines411.ca, Canada's Vaccine Clinic Directory. Here at Vaccines411.ca, you will find an extensive list of clinics offering immunizations across Canada, along with reliable information about a wide range of vaccinations. It's easy. Simply enter your postal code and choose your category to locate the vaccinating clinic closest to you.

This year, getting your flu vaccination is especially important to protect older adults who are more susceptible to both the flu and COVID-19.
Is it flu or is it COVID-19?
These two contagious respiratory infections share many of the same symptoms - fever, cough, sore throat, shortness of breath, headache, fatigue, and muscle pain. Key differences that distinguish COVID-19 are the loss of sense of smell or...

Read more
Vaccine News
Vaccines play a key role early on in our lives. As children, our parents cuddled us reassuringly as we received a quick injection at the pediatrician's, desperate to distract us from impending pain. There may have also been promises of ice cream in exchange for avoiding the inevitable tantrum that would far surpass the time spent in the doctor's care. All jokes aside, though, in our first months and years of life, vaccines contributed to ensuring our likelihood of infant survival.
Back to the beginning: understanding vaccines
Vaccines help our immune systems block potential attacks from...

Read more
Vaccines411® Past Articles
What you need to know about HPV: Let's talk about sex, baby!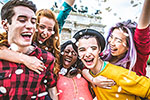 The dating pool in 2020 has had its fair share of challenges. For those not living with their intimate partner, or for the single among us, love in the time of COVID-19 could be complicated. Recently, Canadian health officials have named a new important source of protection during intercourse aside from contraceptives: the mask...

Read more
Vaccines in Development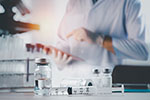 Disease prevention has never been more important than it is today. With more than 5,500 active cases of COVID-19 reported as of late July, and almost 114,000 total cases, a return to normality in Canada may not be possible until a successful vaccine is...

Read more