Preparing for a vacation? Get your travel vaccines before you go
---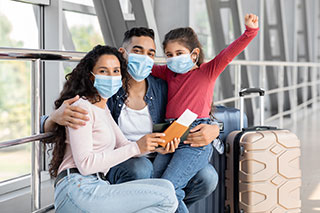 TO-DO:
Find passport: ✓
Book flight and hotel: ✓
Pack bags: ✓
Update travel vaccines: 🚫
With winter's seemingly endless days of darkness and sub-zero temperatures, we're all tempted to click that "BOOK NOW!" button for a getaway towards anywhere but here. Before flocking towards sunnier shores, though, ask yourself this crucial question: are my travel vaccines up to date? If the answer is no, you'll definitely want to consider adding immunizations to your to-do list: outbreaks at home are often tied to people who have been exposed to illnesses overseas.
Adequate immunization prior to travelling abroad means you don't have to worry about coming home with more than you bargained for! Take the necessary precautions while you're away with these common travel vaccines.
Flu & COVID vaccines
Think about it: you'll be spending hours in a full plane of travellers which recycles the same air during the whole flight. Some countries have even lifted the travel requirements when it comes to COVID immunizations and testing, which means your seat neighbours might not need to wear a mask, have their COVID vaccinations, or take a COVID test prior to travelling. Make sure you have immunity on your side so you don't kick off your getaway with severe flu symptoms that leave you bedbound at a resort in paradise: the COVID and flu vaccines can often be given at the same time.
Hepatitis A & B
Hepatitis A is a liver disease typically contracted through contaminated uncooked foods and water conditions that differ from what your body is used to.1 Hepatitis B can be contracted through infected body fluids – whether this entails a steamy winter fling while you're away, or you need stitches in a medical environment with different hygiene standards than the ones you're used to back home.2 Immunizations available for Hepatitis A and B are typically long-term solutions, and don't require frequent updates.
Traveller's diarrhea
Enterotoxigenic E. coli is the most prevalent cause of traveller's diarrhea across the world.3 You're subjecting your gastrointestinal system to contaminated foods or water that can upset your stomach. Immunization is an easy win for eager travelers to avoid spending full days under artificial lighting desperately clutching a porcelain throne, to instead soak up beachside sunshine on a lounge chair.
Tetanus
Tetanus bacteria enters the body via a wound and can affect the nervous system if left untreated.4 Make sure this routine vaccine is up to date, especially when traveling to remote regions where medical establishment are far away if you have wounds that need attention. The good news? These immunizations will last around 10 years before needing to update them again!
Travel with peace of mind
If you're still unsure which immunizations you'll need, give yourself somewhere between four to eight weeks to consult with your healthcare provider.5 Research the health risks you might encounter at your destination and make sure you get the required immunizations within a reasonable timeframe for them to take effect.
Before you go:

Brought to you by Vaccines411.ca - know where to go for your vaccinations.
This information should not be used as a substitute for the medical care and advice of your doctor. There may be variations in treatment that your physician may recommend based on individual facts and circumstances.

Read more Vaccines411® Articles



Sources
Note: the hyperlinks that direct to other sites are not continuously updated. It is possible that some links become untraceable over time. Thank you.