RSV: New protection against an old illness
---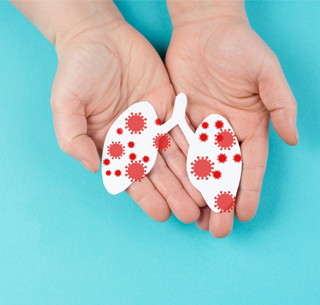 As we move toward fall and the season of coughs and sniffles, keeping our families healthy is more important than ever. Along with seasonal colds and flu, comes respiratory syncytial virus, or RSV, a respiratory tract infection that typically affects young children and older adults.1
The highly contagious RSV virus – first described in the mid-1950s2 – is the leading cause of lower respiratory tract illness in young children in Canada and countries around the world; in fact, most children will develop RSV by the age of 2, according to Health Canada.1
RSV typically causes mild cold-like symptoms such as a runny nose, coughing, sneezing, and fever that resolve on their own in a week or two. However, severe RSV can cause lower respiratory tract infection, inflammation of the small airways in the lung, called bronchiolitis, and pneumonia, making it one of the leading causes of hospitalization of infants under age 2.1
In addition to causing more severe illness in the very young, RSV infection may be harder to identify in infants, whose only symptoms may be a reduced level of activity, trouble breathing or feeding, and/or irritability.1
The good news is that several new antibody drugs and vaccines are becoming available that will help protect kids and adults against RSV.
How is RSV spread?
Like the virus that causes COVID-19, RSV is easily transmitted by coughing, sneezing, or contact with respiratory droplets on contaminated surfaces such as door handles.1
Importantly, as with other viruses that cause the common cold, having had RSV does not protect against future infection – natural antibodies develop but protection is short-lived.1
Older people also at risk
Adults over age 65, and individuals with certain underlying medical conditions are also at increased risk of developing severe RSV. "Because older adults tend to have chronic health issues, there is a risk of an RSV infection triggering severe outcomes, such as heart attacks, pneumonia or even death," said Dr. Samir Sinha, director of geriatrics at Sinai Health and University Health Network hospitals in Toronto, told Global News late last fall.4
"There's a huge burden of RSV illness that occurs annually among older adults during cold and flu season and it is a significant cause of hospitalizations and death within this population as well," he said.4
Reducing the risk of severe RSV
Until recently, there has been no vaccine to protect people at high risk against RSV. High-risk infants may be given monthly injections of the antibody palivizumab (SynagisTM) to temporarily reduce their risk of developing severe RSV infection. This is known as passive immunization, because it uses ready-made antibodies rather than triggering the body to produce its own antibodies against RSV.5
A new antibody medication, nirsevimab (Beyfortus) developed by AstraZeneca and Sanofi, was recently authorized for use in newborns and infants during their first RSV season, to help reduce their risk of developing serious lower respiratory tract disease due to RSV infection.3
Pending recommendations of Canadian Agency for Drugs and Technologies in Health (CADTH), Health Canada expects the antibody "will be available for limited use during the 2023/2024 fall/winter respiratory season," the CBC reported. One dose of nirsevimab is expected to last for an entire RSV season.3
First RSV vaccine gets Health Canada approval for use in adults 60 and older
On August 4 of this year, Health Canada approved the world's first RSV vaccine - GSK's Arexvy - for prevention of lower respiratory tract disease (LRTD) caused by RSV in individuals 60 years of age and older.6
And an RSV vaccine made by Pfizer, known as RSVpreF, is currently being reviewed by Health Canada for use both in adults age 60 and older, and for maternal immunization during pregnancy, to pass protection from the parent to the newborn.7
So when it comes to tackling RSV in the coming cold/flu/RSV season, there is hope on the horizon. And of course, making sure the family gets their flu shots will only boost your peace of mind.

Brought to you by Vaccines411.ca - know where to go for your vaccinations.
This information should not be used as a substitute for the medical care and advice of your doctor. There may be variations in treatment that your physician may recommend based on individual facts and circumstances.

Read more Vaccines411® Articles



Sources
Note: the hyperlinks that direct to other sites are not continuously updated. It is possible that some links become untraceable over time. Thank you.