Demystifying HPV vaccination
---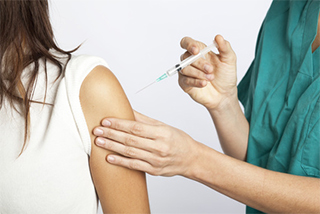 Why get immunized against human papilloma virus (HPV)? Because HPV is relatively common, typically causes no symptoms, and is responsible for almost 3 in 4 cases of cancer of the cervix.
There are many types of HPV. Some are transmitted through sexual contact without intercourse, including oral sex and sexual touching. Infection typically occurs within the first five years of any type of sexual activity. Up to one in four Canadians younger than 25 is infected with HPV, although many don't realize it due to the absence of symptoms. 1a
HPV vaccine is licensed in Canada for women, nine to 45 years of age, and for men nine to 26. Each of the two licensed vaccines available in Canada, Cervarix® and Gardasil®, 2b helps protect against specific types of sexually transmitted HPV. 2a
Keep Preschoolers Healthy: Realities of Rotavirus
Rotavirus is the most common cause of serious diarrhea in babies and young children. The virus can survive on environmental surfaces for days and spreads easily in childcare settings. 2c It commonly occurs in children between six months and two years of age; this age group accounts for more than half of rotavirus hospitalizations. 3a Most children will have had rotavirus by five years of age. 3b
Rotavirus vaccination is advised by both the Canadian Pediatric Society and National Advisory Committee on Immunization. 2d Rotavirus vaccine is given orally. Babies must receive the first dose before 15 weeks of age. At least four weeks should pass between doses, and the final dose should be given by eight months (32 weeks) of age. 2e
For Kids & Moms
Measles, mumps, and rubella are easily-transmitted preventable illnesses that may be associated with serious complications in some children. 4a When contracted during pregnancy, these diseases have been associated with miscarriage or birth defects (in the case of rubella). 4b,c,d
In Canada and the US, introduction of the measles, mumps, and rubella (MMR) vaccine lead to near-eradication of these diseases. However, outbreaks have occurred, most recently in Québec in 2011. Break the cycle. Have your child immunized with one dose at 12 months of age, and a second at 18 months of age or before the child starts school. This helps provide lifelong protection. 5c
Prevention is always the best solution!
Brought to you by vaccines411.ca – know where to go for your vaccinations.
This information should not be used as a substitute for the medical care and advice of your doctor. There may be variations in treatment that your physician may recommend based on individual facts and circumstances.

Read more Vaccines411® Articles



Sources
Note: the hyperlinks that direct to other sites are not continuously updated. It is possible that some links become untraceable over time. Thank you.
HPV vaccine (Human papillomavirus): What teens need to know.
http://www.caringforkids.cps.ca/immunization/HPVVaccine.htm
Vancouver Coastal Health. Physicians' Update, November 23, 2011.
http://www.vch.ca/for-health-professionals/resources-updates/physicians-update
Salvadori M et al for the CPS. Recommendations for the use of rotavirus vaccines in infants.
http://www.cps.ca/english/statements/id/id10-01.htm
Ontario Ministry of Health and Long-Term Care - Public Information - Publications - Immunization - Measles, Mumps and Rubella (MMR) Vaccine
http://www.health.gov.on.ca/english/public/pub/immun/mmr.html
Epidemiological portrait of the measles outbreak - Measles – MSSS. March 23, 2012
https://www.cdc.gov/measles/cases-outbreaks.html