For Moms, It's All About Family
---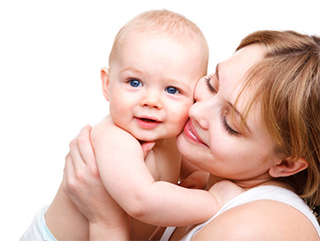 When it comes to family health care, it's generally the woman of the house who tends to take charge. From babies to young adults to grandparents, to even the family pets, it is often Mom who makes the appointment when it's time for a check-up with the doctor or a preventive vaccination. Getting the youngest and most vulnerable members of the family off to a healthy start is a top priority for many mothers.
Planning a family?
Protection of babies and young children against contagious illnesses can begin before birth, when Mom makes sure her own vaccinations are up to date before or during pregnancy. All forms of immunization except live viral or live bacterial vaccines are generally considered to be safe for use during pregnancy. And there's an added bonus—the antibodies produced by a pregnant woman in response to immunization will cross the placenta to protect the fetus and newborn baby against those illnesses.1
An increase in cases of pertussis (whooping cough) in the U.S. affecting primarily children in the first two to three months of life has led the U.S. Centers for Disease Control and Prevention to recommend that pregnant women receive a booster dose of the tetanus, diphtheria and acellular pertussis (TDaP) vaccine in the second half of pregnancy.2
In Canada, pertussis vaccination in pregnancy is under review. Currently, the National Advisory Committee on Immunization (NACI) recommends that pregnant women not previously vaccinated with TDap in adulthood should receive the vaccine immediately post-partum, or during the second half of pregnancy in high risk situations such as during pertussis outbreaks. This vaccination is also advised for adults of any age (e.g., parents, grandparents, childcare providers) who are likely to have contact with infants and have not been vaccinated against pertussis as adults.3
Protection against vaccine-preventable illnesses is a family affair. Children may attend daycare, school, and camp, where sharing of germs along with everyday items may be difficult to avoid; teens and grandparents may travel to exotic locations where contagious diseases are more common than they are at home; Mom and Dad may be at risk of exposure through their work.
Keeping the records straight
Part of maintaining your immune status involves keeping good records so you know when it's time for a new vaccination or a booster shot. When an individual is immunized, he or she should be provided with a permanent personal immunization record. This should be maintained for children and given to them when they leave home. A current record of immunization may be required for certain jobs, such as health care, teaching, or work in foreign countries. Even some schools and childcare centres may request evidence of immunization. Other important health related information, such as history of childhood illnesses and results of blood tests showing immunity, can also be recorded on this immunization record. Consider it your own personal health passport. Maintaining and recording immunization status is just one more important gift that mothers can provide for their children.4
Brought to you by vaccines411.ca – know where to go for your vaccinations.
This information should not be used as a substitute for the medical care and advice of your doctor. There may be variations in treatment that your physician may recommend based on individual facts and circumstances.

Read more Vaccines411® Articles



Sources
Note: the hyperlinks that direct to other sites are not continuously updated. It is possible that some links become untraceable over time. Thank you.
Al-Safi ZA, Shavell VI, Gonik B. Vaccination in Pregnancy. Women's Health. 2011;7(1):109-119.
http://www.medscape.com/viewarticle/735052
Whooping Cough Vaccine for Pregnant Women Among New Recommendations – WebMD
http://www.webmd.com/baby/news/20130128/whooping-cough-vaccine-for-pregnant-women-among-new-recommendations
Pertussis Vaccine - Part 4 - Active Vaccines - Canadian Immunization Guide - Public Health Agency of Canada. Date modified 2012 11 30.
http://www.phac-aspc.gc.ca/publicat/cig-gci/p04-pert-coqu-eng.php
Immunization Records - Part 1 - General Guidelines - Canadian Immunization Guide - Public Health Agency of Canada. Date modified 2012 07 18.
http://www.phac-aspc.gc.ca/publicat/cig-gci/p01-11-eng.php