Rabies - Awareness is your family's best protection
---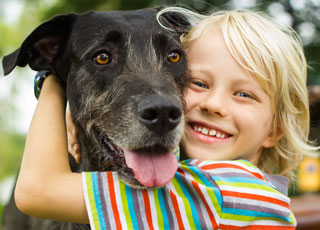 It's natural – kids just seem to be drawn to animals. When rabies is involved, that can be a fatal attraction. An increase in raccoon rabies around Hamilton, Ontario, late last fall prompted the Ministry of Natural Resources and Forestry to step up local efforts to immunize wild animals against this infectious virus, which affects the central nervous system.1
Rabies must be treated early – before symptoms develop – or the disease is fatal.2 Although infection is relatively rare in humans, about half of those who do contract rabies are children under the age of 15. Vaccination to prevent rabies infection before exposure is reserved for people at high risk of contact with the virus, either because they work with animals or they're travelling to areas with a high risk of rabies.2
Kids often have very close relationships with family pets. And our beloved four-legged friends may come into contact with wild animals that carry rabies. Species such as skunks, raccoons, foxes, and bats are among the most commonly infected, although any mammal can catch rabies.3 In North America, bats are the source of most rabies cases in humans.2
Transmission
Rabies is spread though contact with an infected animal's saliva: this could happen through a bite, scratch, or any close contact between saliva and an open or existing wound, or a person's face (i.e. mouth, eyes, or nose, mucus membranes). Bites to the head, neck, and arms are most likely to lead to transmission.4
When a person gets rabies, it's sometimes because a pet got rabies first. That's why vaccinating family pets against rabies is an easy first step to rabies prevention.3
Treatment
Good wound care can reduce the risk of rabies infection by up to 90%. After washing the wound with soap and water for 15 minutes, apply 70% ethanol (rubbing alcohol) or an iodine-containing solution.4
After suspected exposure, see a doctor right away to assess rabies risk and discuss treatment options.4 Rabies cannot be diagnosed in people before symptoms emerge.
A series of rabies vaccinations can prevent the disease from developing if they are received soon enough. Symptoms usually take about one to three months to develop, although this can vary from several days to several years. Once early symptoms develop – headache, fever, fatigue and feeling unwell – there is no treatment to stop the virus from causing death.4
What kids should know
Never touch a dead or a wild animal. Even contact with a rabid animal that's dead can cause rabies.
Infected animals may have no symptoms at all; however, some common signs of rabies include difficulty swallowing, a lot of drooling or saliva, and uncharacteristic behaviour.
Tell an adult if you see a dead animal, one that seems sick, or is acting odd, and if you find a bat indoors or outside.3
Visit our Rabies Resources page for more resources that will provide you with all you need to know about this potentially deadly virus.
Brought to you by Vaccines411.ca – know where to go for your vaccinations.
This information should not be used as a substitute for the medical care and advice of your doctor. There may be variations in treatment that your physician may recommend based on individual facts and circumstances.

Read more Vaccines411® Articles



Sources
Note: the hyperlinks that direct to other sites are not continuously updated. It is possible that some links become untraceable over time. Thank you.