Travel Vaccines for a Healthy Vacation
---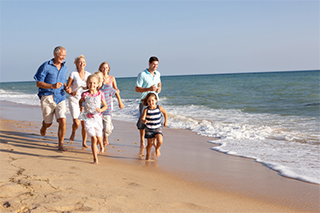 Travelling is the time to unwind, spend quality time as a couple, as a family or with friends, to discover new landscapes and ways of life, to meet new people. However, exotic adventures can quickly become nightmares if certain precautions are not taken before leaving.
In fact, hygiene standards can vary from one country to another while certain diseases need to be avoided at all costs. Before packing your bags, inform yourself on the epidemics that may be going on in your destination country of choice, make sure your vaccination booklet is up to date and plan to visit a travel clinic. You can then safely get away for your new adventures without any nasty surprises!
Many criteria to evaluate your vaccination needs
Vaccination requirements may vary according to the country, the type of travel, as well as age and medical history of each individual. For example, a weeklong trip at an all inclusive hotel in Cuba requires less protection than a 3 month humanitarian stay in the same country.1 It is for these reasons that it is impossible to provide a comprehensive and constant list of vaccines necessary for a country. Between hepatitis A and B, tick-borne, European encephalitis, rabies or pertussis, the list of diseases that require additional precautions is long. You are strongly encouraged to consult a healthcare professional that will be able to evaluate your risks and help you make better decisions for your health while traveling. Plan ahead of time by booking an appointment and give the vaccine time to become effective.
Compulsory vaccines; the case of yellow fever
Some vaccines are suggested by Canadian health services while others are compulsory to be admitted entry into certain countries. For example, the yellow fever vaccine is compulsory in order to travel to certain African, Asian and South American countries. Failure to provide an official proof of vaccination can result in being refused entry, put in quarantine or vaccinated on site. The official document will be given to you upon vaccination. Please note that not all vaccination clinics supply the antiamaril vaccine (against yellow fever). Only a few designated clinics can administer the vaccine in Canada. To find the complete list of countries where a risk of yellow fever contamination is present, and those requiring vaccination against the disease, visit the World Health Organisation's website.
There are other compulsory vaccines that exist, like the case of Saudi Arabia for example, where pilgrims going to Mecca during the Hajj must provide proof of vaccination against polio and meningitis.2
Malaria
Malaria is a widespread disease in tropical and subtropical countries.1 It is transmitted via mosquito bites and can be very dangerous, even deadly. However, no vaccine exists against Malaria. It is therefore recommended to protect yourself against mosquitoes and to take anti-malarial medication before, during and after your stay.
Where to go to get vaccinated?
To find the vaccination clinics nearest you, notably those against yellow fever, visit Vaccines411.ca; enter your postal code and select the Travel section.
Please note that this article is purely informative and does not in any case replace the advice of a healthcare professional. Travelers are invited to book an appointment in a travel clinic to evaluate the risks and take the necessary precautions before their departure.
Vaccines411.ca wishes you an excellent vacation, in good health!
Brought to you by vaccines411.ca – know where to go for your vaccinations.
This information should not be used as a substitute for the medical care and advice of your doctor. There may be variations in treatment that your physician may recommend based on individual facts and circumstances.

Read more Vaccines411® Articles



Sources
Note: the hyperlinks that direct to other sites are not continuously updated. It is possible that some links become untraceable over time. Thank you.
Protégez-vous, Guide pratique, Voyageur.
Well on your way, A Canadian Guide to healthy travel abroad.
http://travel.gc.ca/travelling/publications/well-on-your-way