A Midsummer Night's Warning: Everything You Need to Know About Rabies Prevention
---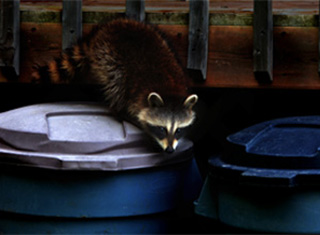 Long strolls in the evenings chasing the sunset. Fresh, balmy nights spent on the backyard porch. Turning off the sprinklers late before bed. And… a chance encounter with a startled raccoon?! Beware of nocturnal animals – despite their adorable exteriors, they are not always harmless.
As much as we tend to romanticize the summer season, there are little creatures that go bump in the night that you may want to keep an eye out for. After all, incidences of rabies tend to skyrocket during the hotter months. Read on for tips on how to stay safe all summer long, and what options you have at your disposal if you think you may have been infected.
Rules of engagement: look, don't touch.
Though they are but little, they are fierce! Shakespeare said it best. As tempting as it may be to approach cute, fluffy nocturnal lurkers, you may want to opt for keeping your distance instead. Rabies is transmitted by animals to humans via bites, scratches, or when their saliva comes in direct contact with one's eyes, mouth, or open wounds.1 While human rabies is exceptionally rare in Canada, it isn't unheard of: in 2022 alone, over 2,500 rabies cases were reported stemming primarily from culprits like bats, skunks, raccoons, and foxes.2,3
What are the symptoms of rabies?
If you think you may have exposed yourself to the risk of rabies, no longer stay in the animal's curst company! Symptoms generally take between one and three months to manifest, but some outlying cases have varied from a few days to a few years.4
First indicators may lead you to believe that you have flu-like symptoms: headache, discomfort, fever, fatigue, even pain or tingling at the exposure site, if any.5 Though gradual at first, these symptoms quickly morph into much more serious manifestations, which indicates damage to the nervous system. Infected people tend to fall into two groups (neither of which is particularly flattering):
Furious rabies is most common, which is "characterized by anxiety, confusion, hyperactivity, hallucinations, fear of water (hydrophobia) and seizures."
Dumb rabies only occurs in about 30% of cases and results in paralysis and weakness.
Time is of the essence when it comes to rabies exposure: if left untreated, and once symptoms appear and worsen, the outcome is often fatal, reducing life expectancy to between seven to 14 days.6 Breathing failure or respiratory system paralysis are the most common causes.
Rabies treatment and virus protection
If you suspect you've been infected, acting quickly is key to avoiding serious side-effects. In fact, good wound care can reduce the spread of the rabies infection by 90%!7 First, wash the exposed area with soap and warm water to flush out as much of the virus as possible.8 Then, call your doctor immediately or go straight to the hospital for urgent care.
Prevention and immunization are only effective if treatment is sought before symptoms of infection occur.9 Treatment includes the delivery of five vaccines over two weeks. The first dose will be injected at the site of the exposure, containing antibodies to help destroy the rabies virus. The four remaining vaccines will be delivered in the upper arm over the balance of the treatment period.
Key takeaways for a safe summer
Love looks not with the eyes, but with the mind! Shakespeare just always seems to find the right words: keep your hands to yourself and avoid approaching unfamiliar animals. Remember that prevention is most successful when the person exposed reacts quickly: wash the wound gently and seek immediate help.
If you want to know more about rabies prevention and immunization, visit our Rabies Resources page and find a vaccination clinic near you.

Brought to you by Vaccines411.ca - know where to go for your vaccinations.
This information should not be used as a substitute for the medical care and advice of your doctor. There may be variations in treatment that your physician may recommend based on individual facts and circumstances.

Read more Vaccines411® Articles



Sources
Note: the hyperlinks that direct to other sites are not continuously updated. It is possible that some links become untraceable over time. Thank you.
Rabies
https://www.who.int/news-room/fact-sheets/detail/rabies#:~:text=Rabies%20is%20a%20vaccine%2Dpreventable%2C%20zoonotic%2C%20viral%20disease%20affecting,both%20domestic%20and%20wild%20animals
Rabies cases in Canada 2022
https://inspection.canada.ca/animal-health/terrestrial-animals/diseases/reportable/rabies/rabies-cases-in-canada-2022/eng/1644357099939/1644357100705
Rabies
https://inspection.canada.ca/animal-health/terrestrial-animals/diseases/reportable/rabies/eng/1356138388304/1356152541083
Ibid.
Ibid.
For health professionals: Rabies
https://www.canada.ca/en/public-health/services/diseases/rabies/for-health-professionals.html
Rabies in humans
https://www.ontario.ca/page/rabies-humans
Ibid.