Considering Virtual Care – One upside of COVID-19?
---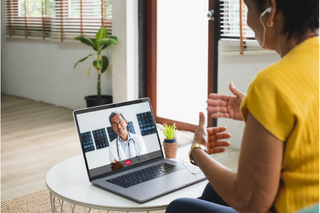 Considering a vacation away? Even prior to the pandemic, planning to travel outside Canada often inspired people to consult their physician to have a check-up, or find out about vaccinations they might need for their destination.
These days, checking in with your doctor for routine checkups may be easier than ever before, thanks to increasing use of telemedicine in an effort to minimize the spread of COVID-19.
Telemedicine is any type of health care delivered virtually, via live video exchange, phone calls or texts. While the infrastructure and processes to allow virtual consultations are still being developed, many experts believe that in some form or other, telemedicine is here to stay.1
To broaden our ability to provide vaccine information during the pandemic lock-downs, Vaccines411 developed a virtual library of brochures which will be one enduring benefit of these challenging times. The library offers information on a broad range of approved vaccines and who they are indicated for, to help inform your conversation with your health care / vaccine provider regarding your specific needs.
The Canadian Medical Association polled Canadians last spring, and while about 62% would rather see their doctor in person, most reported being satisfied with virtual care now and as an option in future.1 Despite the perception that virtual health visits are less effective than in-person, about 60% of patients and health care providers found the two approaches of equal quality, a 2019 U.S. survey found.2 It improves access for people who live in remote locations, older adults and those with disabilities.3
In addition to real-time communication with your physician – without time spent travelling or waiting in a busy clinic – telemedicine allows physicians to monitor patients' test results such as blood pressure / blood sugar, and store and share medical documents and x-rays with health with other physicians/ specialists. As a recent article in Forbes magazine noted, this can improve patient wellness, especially for those with chronic conditions.3
A bit of preparation can help you get the most from your virtual medical consultation. Here are a few tips:
Test your tech! Whatever device you choose, make sure your internet connection is fast enough to support the call.
Write your questions down in advance.
Choose a quiet, well-lit place that will provide the privacy you need.
Ask how to follow up for prescriptions or questions.4
It has been almost 2 years since our lives were altered by COVID-19, and one of the positive effects has been to see the resilience of human beings and the adaptability of our society. It is a work in progress, and we all need to continue efforts to keep ourselves and our families healthy. That includes protecting against infectious diseases that existed long before COVID-19, which has been linked with reductions in vaccination rates.
Travelling or not, make sure you have the protection you need to stay healthy. Visit Vaccines411.ca virtual library to learn more about vaccinations, consult your doctor or vaccine provider, and know where to go for your vaccines. Visit vaccines411.ca.
Brought to you by Vaccines411.ca – know where to go for your vaccinations.
This information should not be used as a substitute for the medical care and advice of your doctor. There may be variations in treatment that your physician may recommend based on individual facts and circumstances.

Read more Vaccines411® Articles



Sources
Note: the hyperlinks that direct to other sites are not continuously updated. It is possible that some links become untraceable over time. Thank you.