Herd Immunity; Be Part of the Solution
---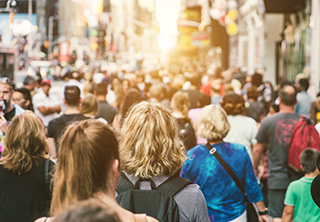 Getting vaccinated protects you and others you care about. Older and wiser! That old aphorism is repeated throughout our adult lives for good reason.
Experience really is the best teacher. Sharing our experiences and leading by example can help the younger generations. Staying up to date with your vaccinations is a great way to model healthy behavior.
A chain is only as strong as its weakest link – and that is true for herd immunity. Remember the measles outbreak of 2014 that started in Disneyland, or the 159+ cases that followed in 2015 in Quebec, in mostly unvaccinated individuals.1 Such infectious illness outbreaks might be avoided if the majority of people is immunized.
Herd immunity is about creating a protective bubble of immunity around your circle of family and friends – so encourage every member of the "herd" to update their vaccinations. As a senior, being immunized can help you avoid spreading infectious illnesses to the grandbabies and young children in your family – not to mention your friends who may not be well enough to have a vaccination.2
Do you have a friend or relative in long-term care? Then you know how upsetting it can be when their residence goes into "lock down" mode due to a flu or other infectious disease outbreak – no visitors (aside from immediate family) allowed.
That's where your immune status is a gift in itself. Staying healthy and free of flu or other transmissible ailments like pneumonia allows you to visit people who matter to you without the worry of passing along an infectious illness.2
The yearly influenza vaccine is recommended for everyone age 6 months and older who does not have contraindications to the vaccine. At the same time, anyone at risk for pneumococcal disease can be immunized against pneumococcal disease,3 which causes ear and sinus infections and pneumonia, and is more likely to be serious in older people and young children.4 One dose of PNEU-P-23 vaccine is recommended for all adults 65 years of age and older, regardless of risk factors or previous pneumococcal vaccination.5
Seniors tend to be at greater risk for infection due to having a suppressed immune system or chronic medical conditions. That's why people over age 65 are also at risk of more serious consequences if they catch the flu – in fact, seniors account for over 50-70% of hospitalizations and up to 85% of deaths related to influenza. Luckily, there are now enhanced influenza vaccines especially developed to be effective in protecting seniors from the flu.6
Finally, as we get older (> 50), anyone who has had chicken pox has an increasing risk of developing shingles, which affects one in three individuals in their lifetime when the varicella zoster virus that causes chickenpox is reactivated.7 As our immune defenses weaken with age, resistance to the latent chicken pox virus wanes, increasing shingles rates to 1 in 2 in people by age 85.
Two shingles vaccines are available for immunization of anyone over age 50 who had, or may have had chickenpox. And because shingles can occur more than once, those who have had shingles can also be vaccinated or revaccinated.8
Talk to your doctor and find out which vaccinations you need to keep you healthy and make your contribution to your community's herd immunity.
Brought to you by Vaccines411.ca – know where to go for your vaccinations.
This information should not be used as a substitute for the medical care and advice of your doctor. There may be variations in treatment that your physician may recommend based on individual facts and circumstances.

Read more Vaccines411® Articles



Sources
Note: the hyperlinks that direct to other sites are not continuously updated. It is possible that some links become untraceable over time. Thank you.