Over 50? Take control of your health!
---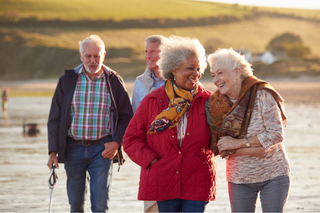 If you are age 50 or over, it's time to take action to stay healthy! Starting with preventing illness by ensuring you have the vaccinations you need.
Our natural immune protection declines as we age, so staying up-to-date with recommended vaccinations gains importance as our age increases. Vaccinations not only help protect you and others from disease, it also reduces your risk of having complications if you do become ill; this is especially important for anyone with a chronic health condition.1
A recent survey found that while most Canadian adults believed they had received all vaccines required for someone their age, less than 10% were actually up to date on their vaccinations.1
COVID-19 also interfered with people getting routine vaccinations. The GSK Global Adult Vaccination Study 2022 reported that in the last five years, vaccination rates were 88% for COVID-19, 56% for influenza, and just 14% for pneumococcal disease and 10% for shingles.2
Over 50s should be sure to have those last two often missed vaccinations to protect against shingles, and pneumococcus, the bacteria that can cause bacterial meningitis, bacteremia (a potentially serious blood infection), and pneumococcal pneumonia.3
Shingles (herpes zoster) affects nearly 1 in 3 Canadians in their lifetime.4 In addition to being recommended for individuals ≥50 years of age, Shingrix was recently FDA-approved to prevent herpes zoster in adults 18 years of age and older who are or will be at increased risk of herpes zoster due to immunodeficiency or immunosuppression caused by known disease or therapy.5 And it prevents shingles in over 90% of people 70 years of age and older.6
Influenza and pneumococcal vaccinations are particularly important this fall. Flu infections are expected to increase with less use of pandemic protection measures, and lower herd immunity after last year's lower infection rates.7 And antibiotic resistant strains of pneumococcal disease – which often causes pneumonia in people with influenza – have emerged since the COVID-19 pandemic.8
"Pneumonia remains one of the most lethal infectious diseases in Canada. [PREVNAR 20, which was recently approved by Health Canada,] broadens the protection against disease-causing serotypes that lead to Streptococcus pneumoniae infections..." said Dr. Angel Chu, Vice Chair of Immunize Canada.9
Planning to travel this winter? Update your routine vaccinations and special travel vaccines – depending on your destination, that may include hepatitis A, cholera, yellow fever, and Japanese encephalitis.10
What protection are you missing?1
Tetanus

Everyone
(1 dose every 10 years)

Diphtheria

Everyone
(1 dose every 10 years)

Pertussis (whooping cough)

Everyone
(1 booster dose as an adult)

Hepatitis A
&
Hepatitis B

Everyone wanting protection

People with medical, occupational, travel or lifestyle risks

Contacts of cases who have been exposed
(Usually 2-3 doses)

Human papillomavirus (HPV)

Females and males 27 years of age and older at ongoing risk of exposure
(Usually 2-3 doses)

Seasonal influenza (flu)

Everyone
(1 dose every year in the fall)

Meningococcal infection

People with specific medical conditions

People living in residential accommodation
(e.g. students, military)
(Usually 1 dose-depends on risk)

Pneumococcal infection

Everyone 65 years of age and older

People with specific medical conditions
(Usually 1 dose-depends on risk)

Herpes zoster (shingles)

Everyone 50 years of age and older

Can also be given to people 50-59 years and those with specific medical risks
(1-2 doses depending on vaccine)
To learn more about what immunizations you might need, visit Vaccines411's adult vaccines checklist.
Brought to you by Vaccines411.ca - know where to go for your vaccinations.
This information should not be used as a substitute for the medical care and advice of your doctor. There may be variations in treatment that your physician may recommend based on individual facts and circumstances.

Read more Vaccines411® Articles

Last Updated: December 1, 2022
Sources
Note: the hyperlinks that direct to other sites are not continuously updated. It is possible that some links become untraceable over time. Thank you.
Not just for kids: An adult guide to vaccination
https://www.canada.ca/en/public-health/services/publications/healthy-living/just-kids-adult-guide-vaccination.html
GSK Global Adult Vaccination Study 2022 (October 11, 2022).
Ask the Experts - Pneumococcal Vaccines
https://www.immunize.org/askexperts/experts_pneumococcal_vaccines.asp
Herpes zoster (shingles) vaccine: Canadian Immunization Guide
https://www.canada.ca/en/public-health/services/publications/healthy-living/canadian-immunization-guide-part-4-active-vaccines/page-8-herpes-zoster-(shingles)-vaccine.html
Herpes zoster (shingles) vaccine: Canadian Immunization Guide
https://www.canada.ca/en/public-health/services/publications/healthy-living/canadian-immunization-guide-part-4-active-vaccines/page-8-herpes-zoster-(shingles)-vaccine.html
Ask the Experts - Zoster (shingles)
https://www.immunize.org/askexperts/experts_zos.asp
Flu is expected to flare up in U.S. this winter, raising fears of a 'twindemic'
https://www.npr.org/sections/health-shots/2022/09/23/1124311571/flu-season-2022-covid-twindemic
Has COVID Swayed the Rise in Pneumococcal Disease in Spain?
https://www.medscape.com/viewarticle/981723
Pfizer announces PREVNAR 20™ (pneumococcal 20-valent conjugate vaccine) is now available in Canada for the prevention of pneumonia and invasive pneumococcal disease in adults 18 years of age and older
https://www.newswire.ca/news-releases/pfizer-announces-prevnar-20-tm-pneumococcal-20-valent-conjugate-vaccine-is-now-available-in-canada-for-the-prevention-of-pneumonia-and-invasive-pneumococcal-disease-in-adults-18-years-of-age-and-older-840947621.html
Immunization of travellers: Canadian Immunization Guide
https://www.canada.ca/en/public-health/services/publications/healthy-living/canadian-immunization-guide-part-3-vaccination-specific-populations/page-9-immunization-travellers.html