Snowbirds, Take Flight: COVID-19 Considerations for Travelling Seniors
---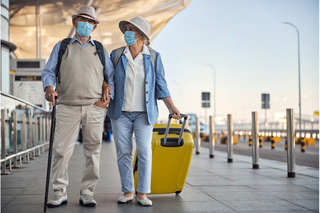 With winter upon us, people are desperate to get away, and who can blame them? It's been nearly two years since they travelled last! And though we can empathize with their need for adventure and sense of wonder, travel conditions during COVID-19 are not nearly as optimal as we'd like them to be. If we're being really, really honest, they're even less optimal for travellers in the 65+ age group. The truth is that all people of all ages are recommended to stay home right now!
Remember: double vaccinated does not equal immune, and while it does help in preventing the spread of the coronavirus, it could potentially infect those with weakened immune systems.1 We won't dissuade anyone from booking tickets, but we will share our list of key tips to make sure this next getaway is as safe one.
Travel strategically and always buy insurance
Travellers should make sure they have received both COVID-19 vaccines before starting any travel research!2 Official COVID tests must also be taken in the delays mandated by current air travel guidelines to be allowed on the plane (there and back). With the rules continuously changing, they may not even make it into the lobby without adequate immunization!
In addition to the COVID vaccines, those looking to get away should also make sure their travel vaccines are up to date. Travellers should speak to their healthcare professional to know what immunizations they may need based on their destination(s).
Passengers must establish the travel rules for the country/area they're travelling to so as to respect local law.3 Government-mandated quarantine requirements should be baked into travel schedules to avoid spending those 14 days abroad locked in a hotel room.4 Due to the current volatility of the rental vehicle industry, senior travellers should opt to stay in central locations where walking to activities is possible, avoiding cramped public transit.5
Note that non-essential travel is still not recommended by most governments.6 Consequently, the risk of travelling is that of the traveller's: now is not the time to skip out on travel insurance. Some providers even offer COVID-19 coverage for a premium, an expense we would encourage anyone to invest in.7
Limit exposure abroad and plan activities accordingly
The same principles apply abroad for mask-wearing: it must cover the nose and mouth to be effective, always worn indoors where risk of transmission is high and ventilation is poor, and used outdoors when social distancing is challenged.8 Travellers should always maintain social distance by staying six feet way from other people whenever possible.
Hygienic practices are an ongoing safety measure, which includes not touching one's face, hand washing with hot water and soap often, and using hand sanitizer regularly. Wanderers should prioritize activities or events taking place outside and, when indoors, opt for ticket-only events that grant gradual entry.
Before they go…
We'd love to bring our globe-trotting seniors to the airport ourselves, but we can't comfortably claim that timing is right. A traveller's health should not be eclipsed by their love for discovery: our goal is to ensure all travellers can vacation safely.
Travel safely this winter! Read up on these links before you go:
Brought to you by Vaccines411.ca – know where to go for your vaccinations.
This information should not be used as a substitute for the medical care and advice of your doctor. There may be variations in treatment that your physician may recommend based on individual facts and circumstances.

Read more Vaccines411® Articles



Sources
Note: the hyperlinks that direct to other sites are not continuously updated. It is possible that some links become untraceable over time. Thank you.