Stay safe this summer - Reduce your risks for Zika and tetanus
---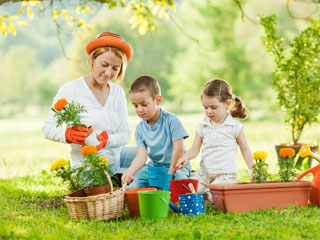 Outdoor activity can carry some tiny but potentially severe health risks, including tetanus bacteria and Zika-bearing mosquitos. So whether you are gardening at home this summer or vacationing in warmer climes, enjoy time outdoors knowing you have done all you can to keep yourself and your family safe.
Check with your physician or vaccination clinic to ensure that you have all the vaccinations you need for your holiday destination, and that you are up to date with routine once-a-decade shots such as tetanus.
Several promising Zika vaccines are currently in development1, but until they are tested and approved, the best protection is for you and your partner to avoid Zika-affected destinations. Check the Government of Canada website for updates on Zika transmission patterns.2
Did you know?
The Zika virus can be passed from a pregnant woman to her fetus and can cause birth defects. Zika can be sexually transmitted and 75-80% of infections cause no symptoms. Women should wait 2 months and men 6 months after returning from a Zika-affected destination before trying to conceive.
Avoid mosquito bites!
Get accommodations with air conditioning, good window screens, and mosquito netting for the bed.
Cover up when outdoors – tucked in light-coloured shirts and pants, socks and a hat all help provide a physical barrier.2
Spray clothing and exposed skin with insect repellents – used as directed by the manufacturer, products containing 50 per cent Deet are safe, even for use in pregnancy.3
Click here to learn more.
All about tetanus
Whether it is mosquitos or tetanus risks, we're surrounded – tetanus bacteria exist in dust, soil, and manure. Tetanus bacteria enter your body through broken skin, so a sliver, puncture wound, self-injection, burn, or a crush injury can put you at risk. Wounds contaminated with soil, feces, and saliva are more likely to cause a tetanus infection.
Wear protective gloves, clothing and footwear when there is any risk of injury, e.g., working with tools, gardening.
Clean any wounds immediately – even minor injuries that break the skin, like blisters or scrapes – to help prevent infection.
Click here to learn more.
Brought to you by Vaccines411.ca – know where to go for your vaccinations.
This information should not be used as a substitute for the medical care and advice of your doctor. There may be variations in treatment that your physician may recommend based on individual facts and circumstances.

Read more Vaccines411® Articles



Sources
Note: the hyperlinks that direct to other sites are not continuously updated. It is possible that some links become untraceable over time. Thank you.