The powerful effect of sleep on immunity
---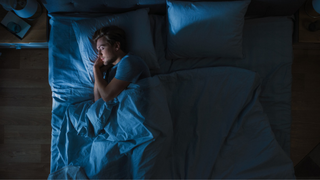 Somebody needs to say it: we could all use a few more minutes of sleep! Whether it's going to bed too late, having trouble falling or staying asleep, or not sleeping nearly long enough, there could be many reasons why you're not catching enough z's. Too much screen time pre-sleep, a late afternoon coffee to "wake up", and an emotional weight keeping slumber at arm's length could all be possible culprits. The well-rested among us are always touting the health benefits of a full night's sleep, and with good reason: sufficient, consistent sleep plays a crucial role in maintaining and building the body's immunity.
What's happening to your immunity while you're asleep?
When your consciousness checks out, intricate, restorative brilliance kicks in. Sleep is a catalyst for maintaining immunity integrity and building up your body's ability to defend itself against microbial or inflammatory threats.1 It also greatly effects the hormonal (endocrine) and chemical (metabolic) functions, which, when in distress, could lead to the development of chronic diseases.
While you're fast asleep, your body is hard at work producing and releasing a protein called cytokines.2 Triggered by your immune system, this protein is ironically a key contributor to promoting sleep and is particularly useful when your body is under stress or fighting off an infection. A good night's sleep has also been proven to improve our immunity cells (called T cells) that activate integrins when they detect infections. These integrins are sticky proteins that help T cells attach to and kill infected ones.3
So… what happens to your immune system when you don't get enough sleep?
If you're not sleeping enough, you're not giving your body the time it needs to produce inflammation- and infection-fighting proteins like cytokines. Low quantities of these proteins means you're left susceptible to immunity deregulation: when you don't get the sleep you need, you are more likely to get sick after being exposed to a virus or less able to recover when you do get sick.4,5 In general, poor sleep = high stress hormones, which means that, aside from feeling tired and having low energy, your stress hormones might also inhibit your T cells from responding optimally to defending the body against potential pathogens.6
You snooze, you… win? Prioritize your sleep schedule today!
If we've learned anything today is that we all need sleep! The body needs adequate rest if it wants to stand up to infections and chronic illness.7 The cumulative effect of neglecting sufficient sleep could increase your risk of cardiovascular disease, obesity, and diabetes, not to mention take a heavy toll on your mental health, energy, and attention span.
At the end of the day, we know sleep can be a finicky evader. To help improve the quality and quantity of the sleep you get and protect yourself again threats to your wellness:8
Stay loyal to your bedtime and try your best to wake up at the same time in the morning, too. The goal? 8 hours!
Avoid sources of noise where you sleep (and yes, that means turning off your phone if you can).
Meditate or practice relaxation exercises before bed to part ways with some of the day's stress.
Integrate healthy choices into your routine, like exercising regularly and avoiding alcohol, caffeine, and nicotine before sleep.
In more serious situations, talk to your doctor about short-term solutions like medication.
While sleep helps strengthen your immune system, keeping your vaccines up to date is a key contributor to protecting yourself (and your family), too.
Brought to you by Vaccines411.ca - know where to go for your vaccinations.
This information should not be used as a substitute for the medical care and advice of your doctor. There may be variations in treatment that your physician may recommend based on individual facts and circumstances.

Read more Vaccines411® Articles



Sources
Note: the hyperlinks that direct to other sites are not continuously updated. It is possible that some links become untraceable over time. Thank you.