Vaccines in Development
---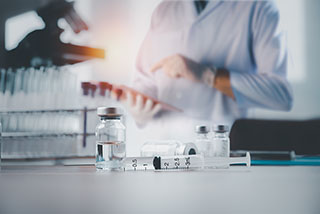 Disease prevention has never been more important than it is today. With more than 5,500 active cases of COVID-19 reported as of late July, and almost 114,000 total cases, a return to normality in Canada may not be possible until a successful vaccine is found.1
Many vaccines are in development – in addition to COVID-19 research, work continues on vaccines to help prevent diseases including dengue fever, herpes simplex virus, HIV-1, malaria, to name just a few.2
Also in the pipeline are therapeutic vaccines that help the body fight cancers – including breast, ovarian, prostate, and non-small cell lung cancers – and diseases such as Lou Gehrig's and Alzheimer's disease.3, page 9
Tackling Lyme Disease
A vaccine to prevent Lyme disease (spread through tick bites) may soon be available - Valneva (makers of Dukoral) announced that VLA15 Phase II dosing and effectiveness studies in 800 individuals are expected by the end of 2020. 4
Cancer vaccines: Building on success
In cancer treatment, immunotherapy helps a person's own immune system recognize and destroy cancer cells more effectively.3 For instance, therapeutic antibodies have been developed that can improve response to treatment of various cancers, including a subtype of breast cancer called human epidermal growth factor receptor 2–positive (HER2+) breast cancer, which accounts for ~25% of breast cancer cases.5
COVID-19 Vaccine update
While the need for a vaccine to prevent COVID-19 remains desperately high, the progress made in a remarkably short time is encouraging. The World Health Organization reported that as of the end of June, there were 16 COVID-19 vaccines in human clinical trials and at least 125 more in earlier stages world-wide.6
The ChAdOx1 vaccine is now in Phase III clinical trials in more than 10,000 people in the UK,7 having safely induced an immune response in Phase I/II trials. This candidate vaccine was developed by Oxford University and AstraZeneca from a genetically engineered virus that causes the common cold in chimpanzees.8
The mRNA-1273 vaccine developed by Moderna and funded by the National Institute of Allergy and Infectious Diseases (NIAID) in the US is undergoing Phase II trials and began Phase III trials in July.7,9
Here in Canada, in July, a candidate COVID-19 vaccine developed by Quebec's Medicago became the first Canadian vaccine to enter Phase I trials. This vaccine uses recombinant technology involving the genetic sequence of a virus, with living plants as the host, rather than traditional egg-based or cell-based methods as the host. Should it prove effective, a plant-based vaccine would be significantly faster to produce, with more consistent results.10
As well, the Ad5-nCoV vaccine (developed by CanSino Biologics in China) has been approved by Health Canada for human trials at the Canadian Centre for Vaccinology at Dalhousie University, after eliciting an immune response in early-stage studies. The trial start date is pending access to the vaccine.11
Now is not the time to neglect routine vaccinations
More than 20 diseases are preventable through immunization.12 Unfortunately, routine vaccination has been declining due to children being out of school and more limited access to in-person health care. Even during the pandemic, the CDC says it's important to prioritize vaccination of newborns, infants, and young children under the age of 2 years.
And with a second surge of COVID-19 predicted for this fall as flu season begins, it is especially important that everyone aged 6 months and older get their flu vaccination this year.13
Words to inspire
"For the people on the frontlines and in the trenches, hang in there with us. We're all in it together and we're gonna get through it." Dr. Anthony Fauci, the head of the US National Institute of Allergy and Infectious Diseases, Medscape Podcast, July 17 2020.
Brought to you by Vaccines411.ca – know where to go for your vaccinations.
This information should not be used as a substitute for the medical care and advice of your doctor. There may be variations in treatment that your physician may recommend based on individual facts and circumstances.

Read more Vaccines411® Articles



Sources
Note: the hyperlinks that direct to other sites are not continuously updated. It is possible that some links become untraceable over time. Thank you.