How the flu shot can help each member of your family
---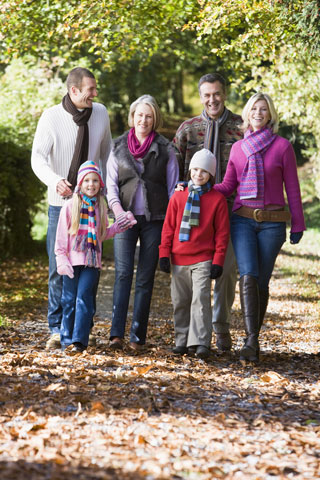 Influenza is a common and easily spread virus – with fall here and winter approaching, now is the time to take action to protect your family from an illness that for some, can have serious complications.2
Moms to be
Getting the flu during pregnancy can lead to pneumonia, or cause a woman to go into labour prematurely.3 The Public Health Agency of Canada's (PHAC) National Advisory Committee on Immunization advises women who are expecting a baby to be get vaccinated. If your baby is going to be born during the winter or spring season, the flu vaccination is especially important to help reduce these risks.2
Having the flu shot when you are pregnant will protect your newborn against influenza for his or her first 6 months; breastfeeding after immunization is also protective during the first months of life. Once babies reach the age of 6 months, they can receive their own flu shot, which is specifically recommended by the PHAC's National Advisory Committee on Immunization for all children from 6 months old to 5 years.2
Parents and other adults
Have you ever been sick enough that you were unable to fulfill your daily responsibilities like taking care of your children or going to work? The Center for Disease Control (CDC) says the average worker misses 1-10 days of work each year because of the flu.1
While healthy adults likely won't suffer major consequences from contracting the flu, getting it can be fatal for newborns, seniors, and people with compromised immune systems. Getting vaccinated will help you prevent getting the flu and spreading it to others who are unable to receive the vaccine.
So getting the flu shot is not only good for your own health, it's beneficial for the economy and the entire community.
Infants and toddlers
Did you know that almost one out of two (40%) unvaccinated children gets the flu during influenza season? And being vaccinated against the latest strain of the flu cuts a child's risk of developing influenza-related ear infections in half.2 It also reduces a child's risk of flu-related hospitalization.
Babies under 2 years old are especially vulnerable to complications such as pneumonia, infection and seizures.2
School-age children and teens
School kids spend most of their day in close contact with other children. The influenza virus can survive for hours in dried mucus and is easily transmitted through direct contact.2 Children with asthma, heart conditions, neurological disorders and diabetes may be especially hard-hit by the flu.
Grandparents
Anyone over the age of 65 can benefit from the flu, and pneumococcal vaccines which can be safely administered together.2 Many people develop chronic health conditions including asthma, cardiovascular conditions, and diabetes as they age. This may make them especially vulnerable to the flu and potentially serious complications, such as bacterial pneumonia.5
Grandparents who live in retirement homes or long-term care are especially vulnerable to infection, and the flu is easily spread from person to person through droplets (e.g. saliva, sneezing) and by contact with objects or surfaces like door knobs, that have been in contact with the someone carrying the virus.2
Brought to you by Vaccines411.ca – know where to go for your vaccinations.
This information should not be used as a substitute for the medical care and advice of your doctor. There may be variations in treatment that your physician may recommend based on individual facts and circumstances.

Read more Vaccines411® Articles



Sources
Note: the hyperlinks that direct to other sites are not continuously updated. It is possible that some links become untraceable over time. Thank you.
Why Everyone Should Get A Flu Shot — Even Healthy Adults. Business Insider.
http://www.businessinsider.com/should-i-get-the-flu-shot-2014-9#ixzz3hJT5xhDu
Top ten reasons to get the flu shot. Province of Ontario publication.
http://www.health.gov.on.ca/en/pro/programs/publichealth/flu/docs/hcw_education_tool_en.pdf
Influenza and pregnancy.
http://www.marchofdimes.org/pregnancy/influenza-and-pregnancy.aspx
Influenza, Avian Influenza and Pandemic Influenza.
http://ipac-canada.org/influenza-resources.php
Why Seniors Should Get the Inactivated Influenza (Flu) Vaccine
http://www.healthlinkbc.ca/healthfiles/hfile12a.stm